"Because a thing seems difficult for you, do not think it impossible for anyone else to accomplish."

Marcus Aurelius (AD 121-180)
Realizing that the lives of thousands of homeless people were being wasted on the streets, Tiger Todd took it upon himself to do something about it. He retired from the electronics company he founded and discovered his true calling by motivating people toward the lives they were meant to live. Since developing an antidote for American homelessness through his volunteer work on the streets of Las Vegas in the 1990's, Tiger has continued to work with community heroes, helping to transform over 30,000 homeless men and women into responsible, motivated, contributing members of society.
Today, whether motivating homeless people, college students, or executives, Tiger Todd has tapped into something real – the ability to produce change… ridiculously fast.
The truth is, Tiger Todd is what happens when a child from Public School has no friends his own age growing up…and instead learns only from his teachers and his dad's clients. And loves love songs…and action films.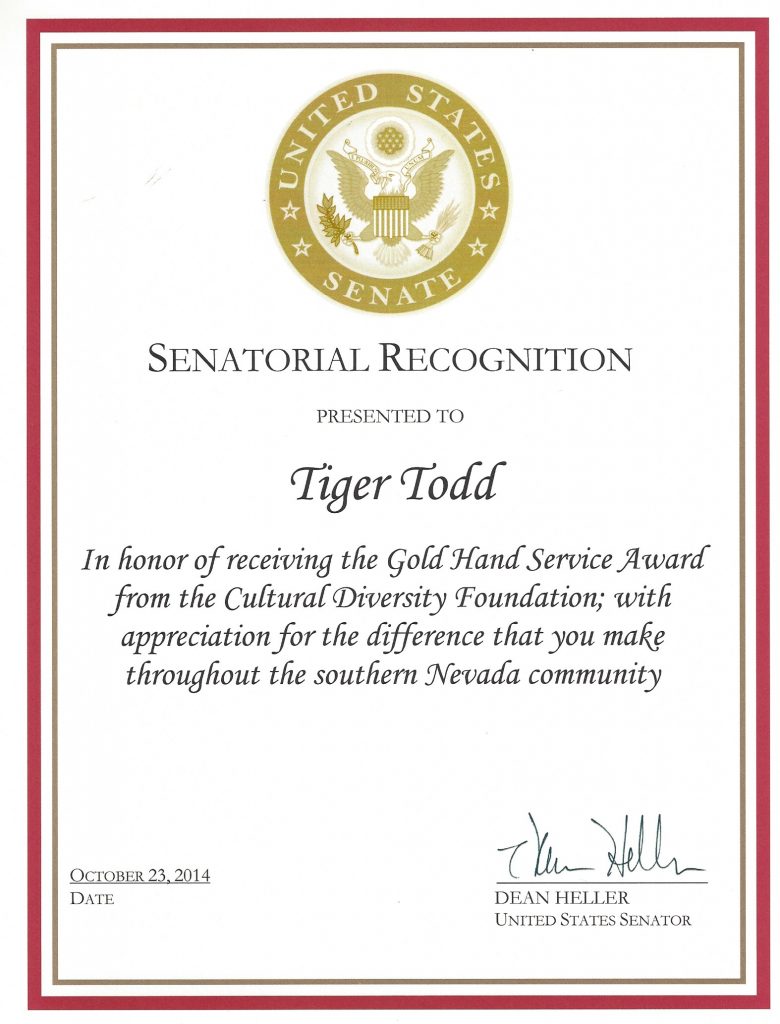 Tiger was born and raised in Las Vegas, Nevada, the son of a photographer-turned entrepreneur-turned Tab® abuser. He never recovered from that, but did recover from being run over by a drunk driver at age 4, and from the ensuing coma and chicken pox in the body cast. He learned to work as a weed puller and sailing instructor before age 10, then as a dishwasher, waiter, golf course maintenance man, cook, waiter again, ex-husband, scientist, security guard, opera singer, entrepreneur, electronics troubleshooter, social scientist, ex-husband again, academic consultant and finally as an author and re-educator, having helped over 30,000 homeless people and a few hundred thousand other people write their own life scripts in real-time through his Hero School curricula and multifaceted "ignition" presentations. He is rumored to still listen to Barry Manilow, ride only stallions on the beach and is both a Pisces and a Dragon. You've been warned.
As a speaker, Tiger Todd's gift for sparking self-actualization and character change has birthed meaning and purpose among the broadest spectrum of individuals, including teenagers, college students, educators, athletes, entrepreneurs, professionals, executives – even the homeless. His revolutionary keynote addresses connect with everyone by integrating social and behavioral science with brain research, quantum mechanics, philosophy, mythology, faith, literature, pop culture, motion pictures, and humor. Tiger's energy and "uncommon sense" leave profound and lasting impressions on audience members. The "stickiness" of his keynote presentations, for example, continue to motivate and inspire attendees to take responsibility, take control, and take action in their own lives for months and years afterward.
For more than a decade, Tiger Todd has inspired and motivated innumerable individuals from some of the more difficult walks of life to change their lives by changing their character. Drawing from the familiar stories of heroes echoed throughout history, popular culture, mythology, religion, and our movies, Tiger helps everyone realize their inner hero, always finding a way to motivate people past their challenges and forward toward their goals.
A Gamechanger in Human Education, Tiger Todd has written, produced, or performed motivational, educational, corporate or culture development programs for proactive businesses and institutions including Wells Fargo Bank, Mass Mutual Financial Group, The University of Phoenix, Mitsubishi Electric Corp, MDL Group, Catholic Charities, FAL Accountants, The Westmark Group Engineering, the Southern Nevada Regional Housing Authority, Path Los Angeles, The Shade Tree and the Terrible Herbst Oil Co. He is the author many behavioral models including Human Change Theory and the Hero School® model.
Gaining over 20 years of business, leadership, and technical experience in the electronics industry through companies he founded in the early '80s, Tiger Todd learned to design and diagnose technical systems while simultaneously educating a new generation of entrepreneurs. An alumnus of Whitman College, Tiger majored in math and physics while minoring in music and vocal performance. After developing a new school of psychology, Tiger attended Regis University where he studied classical Education, Psychology, and Sociology, earning a degree in Social Science.
Tiger Todd remains a director for several companies, including for the neighborhood-change organization he founded, while continuing today to produce and perform Character Change® Keynotes and Hero School® Workshops nationally. His passion for motivating lasting human and social change is evident in the pro bono classes he produces for homeless and displaced men and women in Los Angeles and the Las Vegas' homeless corridor, financial literacy classes for homeless and inner-city youth, and through motivational assemblies for middle and high school students.
Tiger's upcoming biography, Uncommon Sense, and other reasonably-sized books on Transformational Leadership, the Success Pyramid, Advanced Human ReEducation and Positive Relationships are due in bookstores in the Fall.
For North American Sponsorships, Consulting, Workshops and Keynotes:
Tiger Todd can be reached at (702) 795-7000 or via TigerTodd@HeroSchool.us